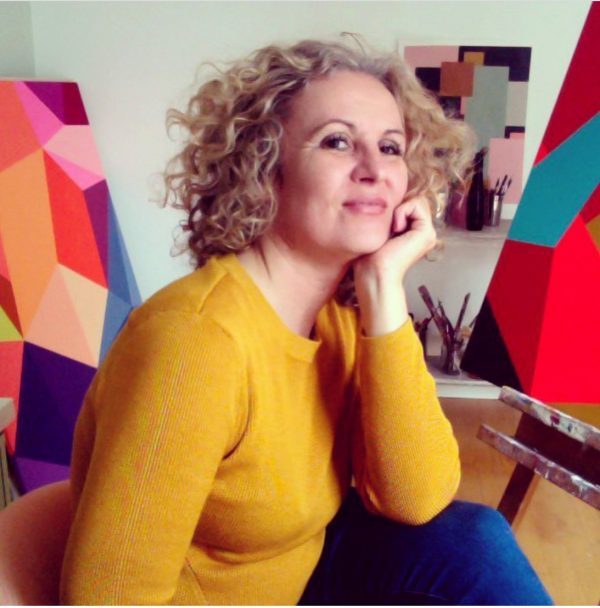 Constanze Kukulies was born in Düsseldorf (D) and raised up in Aachen (D). She studied Graphic Design, received a master's degree in Visual Communication at the FH Aachen and is a mother of two children. She is also an illustrator and logotype designer, since 2008 she runs a successful graphic design studio in Vienna / Austria. (www.kukulies.at).
In 2015 she moved to a larger studio in Vienna 7. District and had the space to experiment with screenprinting and larger formats.  She participated in several exhibitions in Vienna.
In her creative work as an artist she uses printing and painting techniques to discover the balance of beauty and chaos. Maybe because of her background as a graphic designer she often uses geometric shapes but also loves diving into free experimenting with different materials. In 2018 she developed an "artist label" that she called COCO SCHNEIDER. Coco Schneider publishes imaginary female portraits and figures.
Exhibitions:
Event: transformationen
Dates: April 17, 2018 – April 23, 2018
Venue: art18 – vernetzte kunst währing, Weitlofgasse 17/27, 1180 Wien
Die KünstlerInnen beschäftigen
sich in ihrer Arbeit mit existenziellen Fragen
wie Unschuld, Suche, Entwicklung, die sie
im Zusammenspiel abstrakter und figurativer
Formen zu ergrunden suchen.
art18 – vernetzte kunst währing
Weitlofgasse 17/27, 1180 Wien
Event: Ein Um Aus an Oder Druck
Dates: Dec. 1, 2016 – Dec. 8, 2016
Venue: Au, Brunnengasse 76, 1160 Wien
Grafik Illustration Druck
Event: Die Irren
Dates: Feb. 29, 2012 – Feb. 29, 2012
Venue: ArtSocialSpace Brunnenpassage Wien, Brunnengasse 71/Yppenplatz 1160
Verrueckter König?
Abtruenniges Volk?
Eine kuenstlerische Diagnose der Diktatur
Theaterperformance von Ibrahim Amir, Joan Avery-Zedlacher, Osso, Constanze Kukulies